Thomas G. Gleason, MD, MS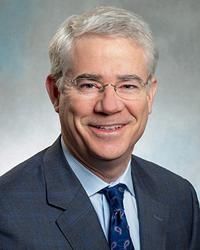 Specialties:
Cardiothoracic Surgery

Lung Transplant Surgery

Heart Transplant Surgery

Cardiac Surgery
Dr. Gleason joined the Division of Cardiac Surgery as Professor of Surgery at the University of Maryland in June 2021 after having served as the Chief of the Division of Cardiac Surgery and Co-Executive Director of the Heart & Vascular Center at the Brigham and Women's Hospital in Boston, Massachusetts.
Previously, Dr. Gleason was the Ronald V. Pellegrini Endowed Professor of Cardiothoracic Surgery, Chief of the Division of Cardiac Surgery, Co-Director of the Heart and Vascular Institute, and Director of the Center for Thoracic Aortic Disease at the University of Pittsburgh School of Medicine and UPMC, Assistant Professor of Surgery at Northwestern University Feinberg School of Medicine and Director, Thoracic Aortic Surgery Program at the Bluhm Cardiovascular Institute at Northwestern Memorial Hospital, and Assistant Professor of Surgery at the Perelman School of Medicine at the University of Pennsylvania.

Dr. Gleason is an expert in treating thoracic aortic diseases and has extensive clinical experience managing valvular heart disease, hypertrophic cardiomyopathy, coronary artery disease, atrial fibrillation and end-stage heart and lung disease. His clinical research interests have included the development and refinement of novel valve therapies, most particularly, aortic valve repair strategies, and the management of aortic dissections with a distinct focus on neurocerebral malperfusion and neurologic outcomes.
His longstanding basic science research mission has been devoted to the study of ascending aortopathies and aortic dissection, particularly those associated with congenital bicuspid aortic valve (BAV)—the most common phenotype seen among patients with ascending aortic aneurysmal disease. His research on BAV aortopathy has been supported by the National Heart, Lung and Blood Institute of the National Institutes of Health for many years.

Dr. Gleason currently serves on the Board of Directors of the Society of Thoracic Surgeons and on the National Steering Committee for the STS/ACC TVT Registry. He is co-chair of the Research and Publications Committee for the TVT.
He is a member of the American Society for Clinical Investigation (ASCI), the American Surgical Association (ASA), and the American Association for Thoracic Surgery (AATS), and he is a fellow of the American Heart Association (AHA), the American College of Surgeons (ACS), the American College of Cardiology (ACC) and the American College of Chest Physicians (CHEST). He previously served as a permanent member of the Bioengineering, Technology and Surgical Sciences (BTSS) Study Section of the NIH Center for Scientific Review.
Gender: Male
Language(s): English
Affiliation(s):
University of Maryland Medical Center
Medical School:
Rush Medical College of Rush University Medical Center, 1993
Residency:
University of Virginia Medical Center, 2000
Fellowship:
Hospital of the University of Pennsylvania - Cardiac Surgery, 2003
Certification:
American Board of Thoracic Surgery - Thoracic and Cardiac Surgery, 2003

American Board of Surgery - Surgery, 2001
Heart and Lung Transplant | James T. Frenkil Building
16 South Eutaw Street
Suite 100
Baltimore,
MD
21201
Get Directions
Cardiac Surgery | UM Professional Building
419 West Redwood Street
Suite 300
Baltimore,
MD
21201
Get Directions