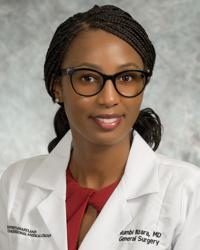 Watch Videos
Rumbi Nzara Mukurazhizha, MD
General Surgery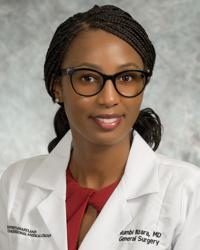 Watch Videos
UM Charles Regional Medical Group
Languages: English
Gender: Female
Locations
University of Maryland Charles Regional Medical Group General Surgery Laplata
100 North Oak Avenue
La Plata,
MD
20646
Get Directions
About Me
Why did you pursue a career in medicine, and why did you choose your particular specialty?
I chose to do medicine because of witnessing the impact of poor access to healthcare in marginalized communities. I felt a deep desire to serve and to make a difference for each patient under my care. General surgery appealed to me because it allows me to fix a specific problem for a patient immediately, which is very gratifying. I specialized in minimally invasive surgery because I saw improved outcomes with patients experiencing faster recovery and decreased post-operative pain.
What types of conditions do your patients have, and what kinds of patients do you see?
I treat patients with a broad range of problems, including abdominal wall hernias, gallstones, persistent heartburn, colon cancer, rectal pain, skin concerns, intestinal blockages, and obesity. I also perform upper endoscopies on patients with persistent heartburn who may need surgery to treat acid reflux. It's a privilege to care for each patient I see, so I welcome any patient who needs general surgery care.
Do you perform any particular procedures or practice in any centers that you'd like to highlight?
I am fellowship trained in Weight Loss and Bariatric surgery, including sleeve gastrectomy and gastric bypass surgery, so I am excited to bring that skill set to the community. Additionally, I have experience being part of a comprehensive weight loss center that offers various options for patients to get to a healthy weight, including nutritional counseling, medications, and multimodal medical weight management.
Why do you think patients should come to you and your team for treatment—what are some differentiating factors?
I aim for excellence in everything I do and prioritize giving my patients the very best care. I always seek to advance my surgical skills and stay abreast of the cutting-edge techniques, so my patients have access to the latest evidence-based care in the field. I am grateful for the privilege to care for all the patients who entrust their care to me, offering compassion and empathy in each interaction.
Do you have a specific treatment philosophy that you'd like to share with prospective patients?
My treatment philosophy puts the patient at the center of the treatment team. The objective for the surgeon is to listen and truly understand the patients' concerns so they can come up with appropriate treatment options that align with the patient's goals. I am committed to safe and cost-effective care that minimizes unnecessary testing and procedures.
Have you received any major awards or do you belong to any societies that you'd like to highlight for your new patients?.
I maintain professional memberships with the American College of Surgeons, American Society for Metabolic and Bariatric Surgery, Society of American Gastrointestinal and Endoscopic Surgeons, and Association of Women Surgeons.
I am Board Certified in General Surgery with the American Board of Surgery.
Medical School:
University of Minnesota Medical School, 2014
Residency:
Boston Medical Center, 2019
Fellowship:
University of Maryland Medical Center (UMMC) - Minimally Invasive Surgery, 2020
Certification:
American Board of Surgery - Surgery, 2019
UM Charles Regional Medical Center