Rena Deep Malik, MD
Assistant Professor, Director of Female Pelvic Medicine & Reconstructive Surgery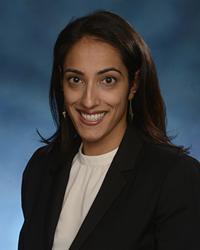 Dr. Malik was named a "Top Doctor" in the specialty of Urogynecology and Urology by Baltimore magazine in 2020.
Dr. Malik is a urologist who specializes in Female Pelvic Medicine and Reconstructive Surgery. She joined as Assistant Professor of Surgery in the Division of Urology at the University of Maryland in 2018. She previously completed training at the University of Chicago and the University of Texas at Southwestern Medical Center. She specializes in reconstructive urology including the management of female and male voiding dysfunction (or problems urinating), urinary incontinence (leakage of urine), vaginal and robotic surgery for pelvic organ prolapse including cystocele (bladder), vaginal vault/enterocele (uterus or bowel), and rectocele (rectum), overactive bladder, neurogenic bladder, urodynamic evaluation (test to evaluate bladder function), male and female urethral stricture, vesicovaginal fistula, urethral diverticulum, and mesh-related complications.
She is currently a member of the American Urological Association and the Society of Women in Urology. She is also a member and participant in the social media committee for the Society of Urodynamics, Female Pelvic Medicine and Urogenital Reconstruction as well as the Association of Women Surgeons. She has published over 20 peer-review articles and book chapters. Her current research interests include gender disparity, health literacy, and health care outcomes.
Dr. Malik is dedicated to providing the highest quality care to improve her patients' quality of life. Her goal is to ensure that her patients are listened to and feel confident in their treatment plan.
Gender: Female
Language(s): English; Punjabi; Hindi
Affiliation(s):
University of Maryland Medical Center Midtown Campus

University of Maryland Medical Center

Member of UM Faculty Physicians, Inc.
Medical School:
New York University School of Medicine, 2010
Residency:
University of Chicago Medical Center, 2016
Fellowship:
U.T. Southwestern Medical Center at Dallas - Female Pelvic Medicine & Reconstructive Surgery, 2018
Certification:
American Board of Urology - Urology, 2020