Ngozi M. Akabudike, MD
Assistant Professor of Orthopaedics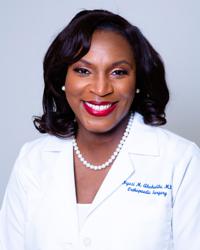 Specialties:
Hand Surgery

Orthopedic Surgery
Dr. Akabudike was named a "Top Doctor" in the specialty of Orthopedic Hand Surgery by Baltimore magazine in 2020.
Dr. Akabudike is an assistant professor of orthopedics at the University of Maryland School of Medicine. She received her medical degree from Cornell University Medical College in New York. Dr. Akabudike completed her residency in orthopedic surgery at Hospital for Special Surgery in New York and her fellowship in hand and upper extremity surgery at the Cleveland Clinic Foundation in Cleveland, Ohio.
She has published numerous articles and received awards. She is also a member of many professional societies and is board certified in orthopedic surgery.
Related Videos
Gender: Female
Language(s): English
Affiliation(s):
UM Rehabilitation & Orthopaedic Institute

University of Maryland Medical Center

University of Maryland Medical Center Midtown Campus

Member of UM Faculty Physicians, Inc.
Medical School:
Weill Cornell Medical College, 2005
Residency:
Hospital for Special Surgery, 2010
Fellowship:
Cleveland Clinic - Hand Surgery, 2011
Certification:
American Board of Orthopaedic Surgery, Inc. - Surgery of the Hand, 2014

American Board of Orthopaedic Surgery - Orthopaedic Surgery, 2013
External Professional Relationships

A University of Maryland Department of Orthopaedics faculty member may have external professional relationships with health-care related businesses. These relationships often lead to the development of new treatments and therapies. The Department of Orthopaedics believes that transparency and honesty in the reporting of these relationships is essential to maintaining trust with our patients and mitigating any conflicts of interest or perceived conflicts that may arise.

For faculty who earn royalties on the sale of medical devices, no royalties are earned on any devices sold to patients or to hospitals that are part of the University of Maryland Medical System or in any other facilities where those faculty members treat patients.

All external professional relationships maintained by members of the University of Maryland Department of Orthopaedics are reviewed and approved in advance by the Dean of the University of Maryland School of Medicine (UM SOM) for conformance with UM SOM policies in regarding conflicts of interest, conflicts of commitment, and professionalism.

Dr. Ngoze Akabudike disclosed the following external professional relationships:
University of Maryland Orthopaedic Associates
351 West Camden Street
Suite 501
Baltimore,
MD
21201
Get Directions
University of Maryland Orthopaedic Associates
5500 Knoll North Drive
Suite 100
Columbia,
MD
21045
Get Directions