Joseph Stewart Friedberg, MD
Professor of Surgery

Program Director, Plural Mesothelioma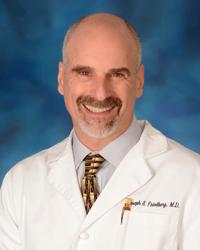 Specialties:
Thoracic Surgery

General Surgery
Telemedicine Available
Dr. Joseph Friedberg is the Charles Reid Edwards Professor of Surgery and head of the Division of Thoracic Surgery at the University of Maryland School of Medicine. Dr. Friedberg received his bachelor's degree from the University of Pennsylvania College of Engineering and Applied Science and received his M.D. from Harvard Medical School. He completed a post-doctoral fellowship at Harvard, residencies at Massachusetts General Hospital and the Massachusetts Eye and Ear Infirmary, and a fellowship in cardiothoracic surgery at Brigham and Women's Hospital. Dr. Friedberg came to the University of Maryland from Penn Presbyterian Medical Center (part of the University of Pennsylvania Health System), where he was chief of Thoracic Surgery, co-director of the Penn Mesothelioma and Pleural Disease Program and an associate professor of thoracic surgery at the University of Pennsylvania's Perelman School of Medicine. Dr. Friedberg was recognized by Best Doctors in America for 2009-10 and 2011-12.
Dr. Friedberg's translational research is focused on developing new, more effective therapies for various types of lung cancer, including mesothelioma. Specifically, he is developing a photodynamic therapy (PDT) - generated autologous tumor vaccine that could be used as a postoperative adjuvant or a primary. PDT involves the use of a photosensitizing drug which interacts with a specific type of light to kill cancer cells.
Other areas of Dr. Friedberg's research include the development of an entirely new type of cancer treatment "photobrachytherapy" that utilizes a combination of radioisotopes, photosensitizers, rare earth nanophosphors, bioabsorbable plasmonic nanovesicles and immunotherapy.
Clinically, Dr. Friedberg is exploring the development of a system for sealing pulmonary air leaks with an inhaled sealant, the development of a new type of surgical drain, an improved method for airway intubation and a device for minimally invasive control of major blood vessels.
Dr. Friedberg is a member of numerous prestigious medical societies, including the American Association of Thoracic Surgeons, the American College of Chest Physicians and the American Society of Clinical Oncology.
Gender: Male
Language(s): English
Affiliation(s):
UM Baltimore Washington Medical Center

UM St. Joseph Medical Center

University of Maryland Medical Center

Member of UM Faculty Physicians, Inc.
Medical School:
Harvard Medical School, 1986
Residency:
Massachusetts Eye and Ear Infirmary, 1988

Massachusetts General Hospital, 1989

Massachusetts General Hospital, 1994
Fellowship:
Brigham and Women's Hospital - Cardiothoracic Surgery, 1996

Massachusetts General Hospital - Research Fellow, 1991
Certification:
American Board of Thoracic Surgery - Thoracic and Cardiac Surgery, 1997

American Board of Surgery - Surgery, 1996
University of Maryland Medical Center
22 South Greene Street
Baltimore,
MD
21201
Get Directions
Thoracic Surgery | UM Professional Building
419 West Redwood Street
Suite 410
Baltimore,
MD
21201
Get Directions