Jose J. Diaz, Jr, MD, FACS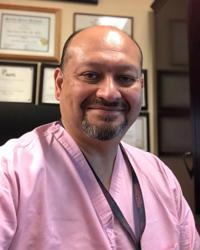 Specialties:
Available for Telemedicine Visits
Dr. Diaz focuses his clinical practice on the critically ill or injured. His practice includes trauma, emergency and general surgery and surgical critical care. 
He has special expertise in:
Complex abdominal wall reconstruction
Enteral cutaneous fistula management
Acute and chronic pancreatitis
Hepatobiliary disease (associated with chronic pancreatitis)
Chest wall injury
He was named a Top Doctor in the specialty of trauma – emergency medicine by Baltimore magazine from 2017 to 2020. 
Dr. Diaz is a professor of surgery, epidemiology and public health. He is UMMC's surgery quality officer, chief of acute care surgery and program director of the Acute Care Surgery Fellowship at the R. Adams Cowley Shock Trauma Center.
Dr. Diaz is board certified in surgery and surgical critical care and is certified by the Board of Nutrition Specialists from the American College of Nutrition. He serves on several UMMC committees and is chair of the Surgery Quality and Safety Committee.
Dr. Diaz is a funded investigator focusing on all aspects of acute care surgery. He has authored more than 145 publications in peer-reviewed journals, 29 book chapters and three books, and has given more than a hundred regional, national and international invited talks.
Dr. Diaz earned his degree from the University of Texas Medical School in Houston and completed his general surgery residency at Cleveland Clinic's Huron Hospital. He completed his trauma and surgical critical care fellowship at Vanderbilt University Medical Center, where he went on to become director of emergency general surgery.
Gender: Male
Language(s): English; Spanish
Affiliation(s):
University of Maryland Medical Center Midtown Campus

Member of UM Faculty Physicians, Inc.
Medical School:
The University of Texas School of Medicine at San Antonio, 1992
Internship:
Albert B. Chandler Medical Center, 1993
Residency:
Meridia Huron/Hillcrest Hospitals, 1998
Fellowship:
Vanderbilt University Medical Center - Surgical Critical Care, 1999
Certification:
American Board of Surgery - Surgical Critical Care, 2000

American Board of Surgery - Surgery, 1999
Shock Trauma Associates, PA
22 South Greene Street
Baltimore,
MD
21201
Get Directions
UMMC - Shock Trauma, Division of Surgical Critical Care
22 South Greene Street
Suite S4D07
Baltimore,
MD
21201
Get Directions