John Ackerman Olson, Jr, MD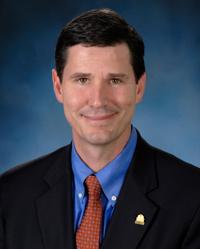 Specialties:
General Surgery

Surgical Oncology

Endocrine Surgery
Telemedicine Available
John A. Olson, Jr., MD, PhD is an Endowed Professor and Vice-Chair of Surgery at The University of Maryland School of Medicine. He is a board-certified surgeon who specializes in endocrine and oncologic surgery with a focus on surgical diseases of the thyroid, parathyroid, adrenal glands and breast.
Dr. Olson is a member-elect of the American Surgical Association and a member of the Halsted Society, the Society of Clinical Surgeons, the Society of University Surgeons and the Southern Surgical Association. He has been named to America's Top Doctors, Best Doctors, and US News and World Report's top 1% of doctors in his specialty in the United States.
Dr. Olson's research laboratory is funded by the National Institutes of Health to investigate the molecular pathogenesis of parathyroid tumors.
He also has been a co-principle investigator of clinical trials that documented the ability of aromatase inhibitors to improve surgical outcomes for women with breast cancer. His clinical research also focuses on the genetic determinants of breast cancer clinical outcomes.
Dr. Olson joined the faculty of the University of Maryland School of Medicine in 2012 following a 12-year tenure on the faculty of Duke University in Durham, North Carolina. Prior to working at Duke, he trained in surgical oncology at the Memorial Sloan-Kettering Cancer Center in New York, in general surgery at Washington University in St. Louis Missouri and was a Registrar of the Royal Infirmary in Edinburgh Scotland. Dr. Olson received his MD and PhD degrees from the University of Florida in Gainesville. 
Dr. Olson is married to Kimberly Hillner Olson. They have two children, Elizabeth and Jack.
 
Gender: Male
Language(s): English
Affiliation(s):
UM Upper Chesapeake Health

UM St. Joseph Medical Center

University of Maryland Medical Center Midtown Campus

University of Maryland Medical Center

Member of UM Faculty Physicians, Inc.
Medical School:
University of Florida College of Medicine, 1992
Residency:
Barnes-Jewish Hospital/Washington University, 1998
Fellowship:
Memorial Sloan-Kettering Cancer Center - Surgical Oncology, 2000
Certification:
American Board of Surgery - Surgery, 1999
UM Greenebaum Comprehensive Cancer Center
22 South Greene Street
Greenebaum Cancer Ctr
Baltimore,
MD
21201
Get Directions
University of Maryland Faculty Physicians, Inc.
419 West Redwood Street
Suite 300
Baltimore,
MD
21201
Get Directions