Georgios Vrakas, MD
Associate Professor of Surgery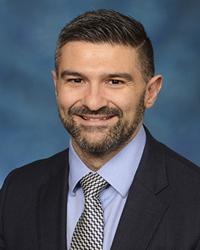 Georgios Vrakas, MD, PhD is an Associate Professor in the Division of Transplant Surgery at the University of Maryland School of Medicine and Director of the Kidney Transplant Program at UM Medical Center. His clinical practice currently focuses on kidney and pancreas transplantation, as well as access operations for renal failure and organ procurement. Dr. Vrakas is also interested in Renal Auto-transplants following ex vivo resection of complex renal tumors and reconstruction of the remnant kidney.

Dr. Vrakas served at Oxford University Hospitals as a Consultant Surgeon and Lead of Renal Transplantation at Churchill Hospital. He received his Medical Degree from the University of Crete, Greece, a MSc Degree in Hepatobiliary Surgery from Democritus University, Greece and a PhD from Aristotle University, Greece.
Dr. Vrakas completed clinical training in General Surgery at Broomfield Hospital (UK), Drama General Hospital (Greece) and 'G. Papanikolaou' General Hospital in Thessaloniki (Greece). He then completed additional specialized Transplant Surgery training at Guy's Hospital, Kings College Hospital and Churchill Hospital, UK.
His research projects have been focused on intestinal and vascularized composite allograft (VCA) transplantation. His studies look into the role of the VCA as a surrogate marker for visceral allograft rejection. In February 2014, his paper 'Abdominal Wall Transplantation to Complement Intestinal Transplantation' was nominated for the Medawar Medal by the British Transplantation Society (Glasgow, UK). In August 2016, Dr. Vrakas was awarded the "Young Investigator Award" by The Transplantation Society for his research on the development of donor-specific antibodies after combined intestinal and vascularized composite allograft transplantation.
He was admitted as a Fellow of the Royal College of Surgeons Ad Eundem.
Gender: Male
Language(s): English; Greek; German
Affiliation(s):
University of Maryland Medical Center
Medical School:
University of Crete School of Medicine - Greece, 2004
Residency:
Drama General Hospital, 2008

'G. Papanikolaou' Hospital, 2011
Fellowship:
Churchill Hospital - Transplant and HPB Surgery - Senior Clinical, 2015

King's College Hospital - Renal and Vascular Access Surgery - Senior Clinical, 2013

Guy's Hospital - Transplant and Access Surgery - Senior Clinical, 2012
University of Maryland Transplant Center
16 South Eutaw Street
Floor 1
Baltimore,
MD
21201
Get Directions