Farshad Adib, MD
Assistant Professor of Orthopaedics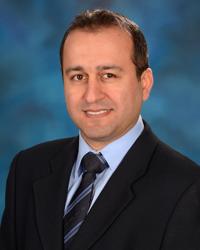 Specialties:
Orthopedic Surgery

Sports Medicine

Hip and Knee Orthopedic Surgery
Farshad Adib, MD, is an assistant professor of orthopaedic surgery at the University of Maryland School of Medicine who focuses on the care of both pediatric and adult patients with hip and knee disorders. Dr. Adib specializes in sports medicine and total joint replacement. He has extensive experience with minimally invasive surgical options, including direct anterior hip replacement surgery, impingement surgery and hip arthroscopy.

Dr. Adib has special interest in hip pain in young adults and offers hip preservation surgery, labral repair, periacetabular osteotomy (PAO, Bernese osteotomy), hip dysplasia surgeries and surgical hip dislocation surgery. He also performs knee ligament reconstruction, meniscus repair and knee replacement surgery. He enjoys treating pediatric conditions including: ACL tears, meniscus injuries and hip dysplasia.

After graduating from the Tehran Medical Branch of Azad University in Iran, Dr. Adib completed his residency in orthopaedic surgery at Akhtar Hospital, Shahid Beheshti Medical University, also in Iran. His training continued with four different fellowships: sports medicine and hip preservation at Harvard Medical School; sports medicine at Nirschl Orthopedic Center, Virginia Hospital/ Georgetown University; and adult reconstructive surgery at the University of Virginia.

Dr. Adib also served as the Medical Director at the Inaugural Across the Bridge 10K Chesapeake Bay Run, and was a Finish Line Physician for the Boston Marathon in 2013, 2014, 2015 and 2016.

His research interests include anterior hip replacement, prevention of infection in total joint replacement, hip preservation surgery, complications after hip arthroscopy, periacetabular osteotomy, gluteal compartment syndrome, external snapping hip syndrome and iliopsoas syndrome after hip arthroscopy and validity and comprehensibility of the activity scales in injuries.

Dr. Adib is the author of several peer-reviewed scientific articles and book chapters on the topics of hip arthroscopy and other hip and knee surgeries.  In addition, he has presented his research at national and international conferences.

Dr. Adib speaks fluent Farsi.
 
Gender: Male
Language(s): English; Persian
Affiliation(s):
University of Maryland Medical Center Midtown Campus

UM Rehabilitation & Orthopaedic Institute

University of Maryland Medical Center

Member of UM Faculty Physicians, Inc.
Medical School:
Teheran University of Medical Sciences and Health Services Teheran Medical School, 2000

Teheran University of Medical Sciences and Health Services Teheran Medical School,
Residency:
Akhtar Hospital, Shahid Beheshti Medical University, 2007
Fellowship:
Boston Children's Hospital - Sports Medicine, 2013

Nirschl Orthopedic Center/Virginia Hospital - Sports Medicine, 2011

Georgetown University School of Medicine - , 2011

University of Virginia Medical Center - Clinical Adult Reconstruction, 2012
External Professional Relationships

A University of Maryland Department of Orthopaedics faculty member may have external professional relationships with health-care related businesses. These relationships often lead to the development of new treatments and therapies. The Department of Orthopaedics believes that transparency and honesty in the reporting of these relationships is essential to maintaining trust with our patients and mitigating any conflicts of interest or perceived conflicts that may arise.

For faculty who earn royalties on the sale of medical devices, no royalties are earned on any devices sold to patients or to hospitals that are part of the University of Maryland Medical System or in any other facilities where those faculty members treat patients.

All external professional relationships maintained by members of the University of Maryland Department of Orthopaedics are reviewed and approved in advance by the Dean of the University of Maryland School of Medicine (UM SOM) for conformance with UM SOM policies in regarding conflicts of interest, conflicts of commitment, and professionalism.

Dr. Adib disclosed the following external professional relationships:
University of Maryland Orthopaedic Associates
351 West Camden Street
Suite 501
Baltimore,
MD
21201
Get Directions
University of Maryland Orthopaedic Associates
5500 Knoll North Drive
Suite 100
Columbia,
MD
21045
Get Directions
University of Maryland Orthopaedic Associates
827 Linden Avenue
Baltimore,
MD
21201
Get Directions