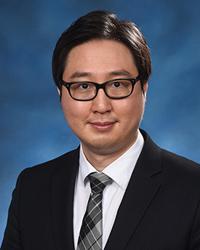 Watch Videos
David Jeong, MD
Sports Medicine, Family Medicine
Assistant Professor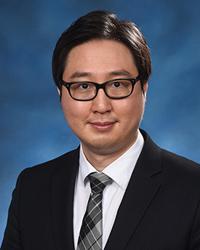 Watch Videos
UM Faculty Physicians, Inc.
Available for Telemedicine Visits
Languages: Korean, English
Gender: Male
In-Office Visits for New Patients
Locations
University of Maryland Family Medicine Baltimore
29 South Paca Street
Baltimore,
MD
21201
Get Directions
University of Maryland Family Medicine Columbia
5890 Waterloo Road
Columbia,
MD
21045
Get Directions
UM Sports Medicine Columbia
5890 Waterloo Road
Columbia,
MD
21045
Get Directions
About Me
Dr. Jeong, originally from South Korea, obtained his medical degree at Chonnam National University College of Medicine in Gwangju, South Korea in 2009. He came to the United States in 2011.
He completed his family medicine residency at SIU-SOM Springfield in 2014, his sports medicine fellowship at SIU-SOM Quincy in 2015, a geriatric medicine fellowship at Thomas Jefferson University Hospital in 2016 and Emergency Ultrasound Sabbatical Fellow at University of California Irvine Medical Center in 2016.
In addition, he successfully completed a 2-year diploma program in sports medicine offered by International Olympic Committee (IOC)'s Medical Commission in 2017. He has expertise in exercise counseling and prescriptions for special populations such as older adults and cancer survivors and utilization of point-of-care ultrasound (POCUS) in sports medicine, primary care and resource-limited settings.
Prior to joining the University of Maryland School of Medicine, he served the Department of Family and Community medicine at Southern Illinois University School of Medicine (SIU-SOM) in Springfield, Illinois, as assistant professor, director of sports and musculoskeletal medicine, director of geriatrics and palliative medicine and director of point-of-care ultrasound program at SIU Center for Family Medicine Springfield (FQHC Center). Also, he was medical director of Lewis Memorial Christian Village, a long term care and subacute rehab facility.
As a former second-degree black belt in Taekwondo, Dr. Jeong has great interest and passion for Taekwondo Medicine. Since September 2017, Dr. Jeong has been involved in World Taekwondo (WT) as chairman of Medical and Anti-Doping Committee and contributed to safety and health protection of World Taekwondo athletes.
Dr. Jeong has been involved in the Olympics and Paralympics since 2018. He was appointed Venue Medical Officer of the Olympic Sliding Center for Luge, Skeleton and Bobsled at 2018 PyeongChang Winter Olympic Games. Also, He participated in 2020 Tokyo Olympic and Paralympic Games as International Federation (IF) Medical Officer of Taekwondo Games.
정대현 교수는 현재 메릴랜드 의과대학 가정의학과 진료부장 및 현장 진단 초음파 과장직을 맡고 있으며, 가정의학 전문의, 스포츠의학 분과전문의, 노인의학 분과전문의 및 임상운동생리학 인증의, 암환자임상운동 트레이너 인증의, 진단초음파(근골격계, 복부, 응급) 인증의, 국제 올림픽위원회 스포츠의학 학위 수료 등 3개 분야 전문의 자격 및 다수의 전문 인증 자격을 보유하고 있습니다.
진료 안내 
가정의학과 클리닉에서는 18세 이상 성인 환자 및 65세 이상 노인 환자를 진료하며 각종 급성 질환 진료, 고혈압, 당뇨병, 천식 등 만성 질환 관리 및 신체 검사 및 각종 건강 검진, 예방접종, 만성 질환에 관한 운동 처방, 진료현장 진단초음파검사, 낙상, 골다공증, 노쇠 및 인지기능장애 등 노인의학 전문진료를 제공해 드리고 있습니다. 
스포츠의학 클리닉에서는 관절염, 관절통, 허리통증, 및 각종 근골격계 부상과 통증에 관한 맞춤식 물리치료 처방, 아대 및 보조기 처방, 관절 초음파 진단 및 스테로이드 및 하이알루론산, 자가혈소판풍부혈장(PRP) 등의 초음파 유도 주사 시술 등 각종 비수술적 정형 재활 치료를 제공해 드리고 있습니다. 
메릴랜드 의대 볼티모어 가정의학과 본원 클리닉 (주소: 29 S. Paca St, Baltimore, 21201)  
진료과목: 가정의학 및 노인의학 
진료시간: 화요일 오후 1시~5시 
예약 문의: 667-214-1800
메릴랜드 의대 콜럼비아 워털루 클리닉 (주소: 5890 Waterloo Road, Columbia, MD 21045)
진료과목: 가정의학, 노인의학 및 스포츠 의학 (비수술적 정형, 재활) 
진료시간: 월요일 오전 8시~12시, 수요일 오후 2시~6시, 목요일 오후 2시~6시 
예약문의 : 667-214-2100
Medical School:
Chonnam National University College of Medicine, 2009
Residency:
Southern Illinois University School of Medicine Springfield Family and Community Medicine Residency, 2014
Fellowship:
Thomas Jefferson University Hospitals - Geriatric Medicine, 2016

Southern Illinois University School of Medicine Quincy Sports Medicine Fellowship Program - Sports Medicine, 2015

University of California - Emergency Medicine, Ultrasound, 2016
Certification:
American Board of Family Medicine - Geriatric Medicine, 2016

American Board of Family Medicine - Sports Medicine, 2015

American Board of Family Medicine - Family Medicine, 2014
University of Maryland Medical Center