David B. Glovinsky, MD
Assistant Professor of Psychiatry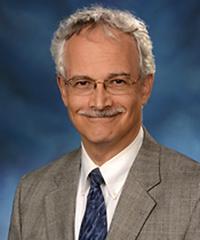 David Glovinsky, M.D., Glovinsky is assistant professor in the Division of Consultation-Liaison Psychiatry in the Department of Psychiatry at the School of Medicine. Dr. Glovinsky received his M.D. from the Michigan State University College of Human Medicine in 1979.
Following completion of his medical training, Dr. Glovinsky completed residencies in Internal Medicine and in Psychiatry before completing a Medical Staff Fellowship at the National Institute of Mental Health. He became board certified in internal medicine in 1986 and board certified in psychiatry in 1990, with special qualifications in Addiction Psychiatry (1997) and Psychosomatic Medicine (2005).
From 1994-1996 Dr. Glovinsky was unit director at the Walter P. Carter Center. He was the medical director of Adult HIV Mental Health Services at the University's Evelyn Jordan Center from 2000-2003. From 2004-2006 Dr. Glovinsky was the medical director at the Harambee Treatment Center. In 2010 Dr. Glovinsky was an attending psychiatrist on the 11W inpatient Adult Psychiatry Unit.
Since 2004 Dr. Glovinsky has directed one of the Inpatient Psychiatry Consultation Services, providing psychiatric consultation and evaluation to hospitalized patients of medical/surgical providers. This service includes responsibilities for the training of second year psychiatry residents and third year medical students.
Dr. Glovinsky is the primary consultation-liaison psychiatrist for the R Adams Cowley Shock Trauma Center. Dr. Glovinsky, through the Division of Consultation-Liaison Psychiatry, and the Movement Disorders Division of the Department of Neurology, has provided psychiatric services located at the outpatient Department of Neurology Clinic.
Gender: Male
Language(s): English
Affiliation(s):
University of Maryland Medical Center Midtown Campus

University of Maryland Medical Center

Member of UM Faculty Physicians, Inc.
Medical School:
Michigan State University College of Medicine, 1979

Michigan State University, 1979
Internship:
Johns Hopkins Hospital, 1980
Residency:
Johns Hopkins Hospital, 1986
Fellowship:
National Institute of Mental Health - Research Fellow, Neuroscience, 1992

Massachusetts Mental Health Center - Psychiatry, 1988
Certification:
American Board of Psychiatry and Neurology - Psychosomatic Medicine, 2005

American Board of Psychiatry and Neurology - Addiction Psychiatry, 1997

American Board of Psychiatry and Neurology - Psychiatry, 1990

American Board of Internal Medicine - Internal Medicine, 1986
University of MD Psychiatry Associates, PA
701 West Pratt Street
Baltimore,
MD
21201
Get Directions