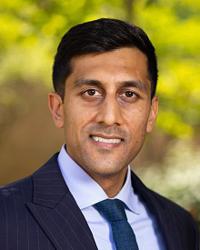 Watch Videos
Akshar N. Patel, MD
Gynecologic Radiation Oncology, Cutaneous (Skin) Radiation Oncology, Neurologic Radiation Oncology, Gastrointestinal Radiation Oncology, Sarcoma and Connective Tissue Radiation Oncology, Breast Radiation Oncology, Thoracic Radiation Oncology, Head and Neck Radiation Oncology, Genitourinary Radiation Oncology, Radiation Oncology
Visiting Assistant Professor of Radiation Oncology, Sub-Department Chair, Radiation Oncology, UM Baltimore Washington Medical Center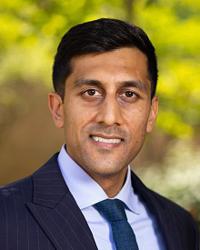 Watch Videos
Available for Telehealth Visits
Languages: Gujarati,English
Gender: Male
Locations
University of Maryland Baltimore Washington Medical Center Radiation Oncology
305 Hospital Drive
Floor 1
Glen Burnie,
MD
21061
Get Directions
Radiation Oncology - MPTC
850 West Baltimore Street
Baltimore,
MD
21201
Get Directions
About Me
Dr. Patel's clinical practice focuses on the treatment of all cancers including prostate, bladder, breast, lung, head and neck, sarcoma, lymphoma, brain/spine and gastrointestinal cancers. He also has expertise in proton therapy, a type of pinpoint-accuracy radiation therapy available at the Maryland Proton Treatment Center. Dr. Patel creates an individualized care plan for each patient that identifies the patient's goals and the best way to achieve them.
Dr. Patel creates an personalized care plan for each patient that identifies the patient's goals and the best ways to achieve them.
"Caring for oncology patients requires an individualized approach. Additionally, navigating a cancer diagnosis can be overwhelming for patients," he says. "I enjoy working with a team of highly trained professionals to ensure that my patients receive the best care for their cancer. I offer cutting edge treatment options with the goal of achieving the best possible outcome."
Dr. Patel is chair of the sub-department of Radiation Oncology at University of Maryland Baltimore Washington Medical Center (UM BWMC). It was after completing his radiation oncology residency at Rutgers University in New Jersey, where he received extensive training in various radiation techniques (including intensity-modulated radiation therapy [IMRT], stereotactic body radiation therapy/stereotactic ablative radiation therapy [SBRT/SABR], brachytherapy and proton therapy), when he joined Chesapeake Oncology and Hematology Associates (COHA) at UM BWMC.
Dr. Patel is a visiting assistant professor at University of Maryland School of Medicine. He is also an active member of the American Society of Radiation Oncology.
Medical School:
UMDNJ-Robert Wood Johnson Medical School, 2011
Internship:
MedStar Washington Hospital Center, 2012
Residency:
Rutgers University, Robert Wood Johnson Medical School, 2016
Certification:
American Board of Radiology - Radiation Oncology, 2017
UM Baltimore Washington Medical Center

University of Maryland Medical Center