Chris T. Owen, CRNP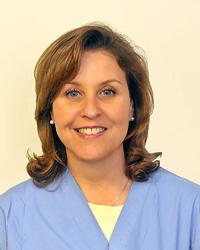 Specialties:
Vascular Surgery Nurse Practitioner
Ms. Owen is a board-certified acute care nurse practitioner and registered nurse first assist for the Vascular Center at University of Maryland Baltimore Washington Medical Center in Glen Burnie, Maryland, since 2011.

As a licensed and certified provider, she coordinates the perioperative phase of care with pre-op patient planning and teaching, first assist in the operating room for both open and endovascular vascular surgeries and manages patients postoperatively. She participates with inpatient medical management and follow-up care of vascular surgery patients.

She provides community education and screening for peripheral vascular disease. She organized and coordinated the Advanced Practice Nurses (APN) committee at UM BWMC and served as co-chair for the Education Day hosted  by APNs at UM BWMC.

She has been a registered nurse since 1991 in the surgical intensive care setting in the areas of open heart, vascular, neurosurgery, trauma resuscitation and burns. She has experience with online education and assisted in the development of a simulation training lab.

She has presented "Learning to Love Lysis" at the Supervised Visitation Network meeting in San Antonio, Texas, in 2014 and received the Best First Time Presenter award. She also presented "Venous Thrombolysis" and "Diagnosis and Assessment of AAA" at the Vascular Nursing Boot Camp held at DeBakey Heart and Vascular Institute, Houston, Texas, in 2014. She presented at the ED-MEDIA World Conference on Education Multimedia, Hypermedia & telecommunications, "Using Blended Learning, Incorporating eLearning, Gaming, 3-D Augmented Reality and Live Simulation to Improve Patient Care Before You Care for Your Patients."

She is published in the Journal of Burn Care and Research with "Contemplating the Pentagon Attack after Five Years of Space and Time."

She has consulted with the Maryland General Assembly in the area of child passenger safety. She was an original member of the Maryland Child Passenger Safety Board. She is a member of American Association of Nurse Practitioners and Nurse Practitioner Association of Maryland. Currently, she is serving her third year as a board member of the Society for Vascular Nursing. 
Gender: Female
Affiliation(s):
UM Baltimore Washington Medical Center

Member of UM Baltimore Washington Medical Group
Graduate:
University of Maryland at Baltimore School of Nursing - MSN, 2011
Certification:
American Nurses Credentialing Center - Acute Care Nurse Practitioner, 2011
Vascular Center at UM BWMC
301 Hospital Drive
Glen Burnie,
MD
21061
Get Directions